This Week
Third Sunday of Easter - April 18, 2021
Wednesday, April 14, 2021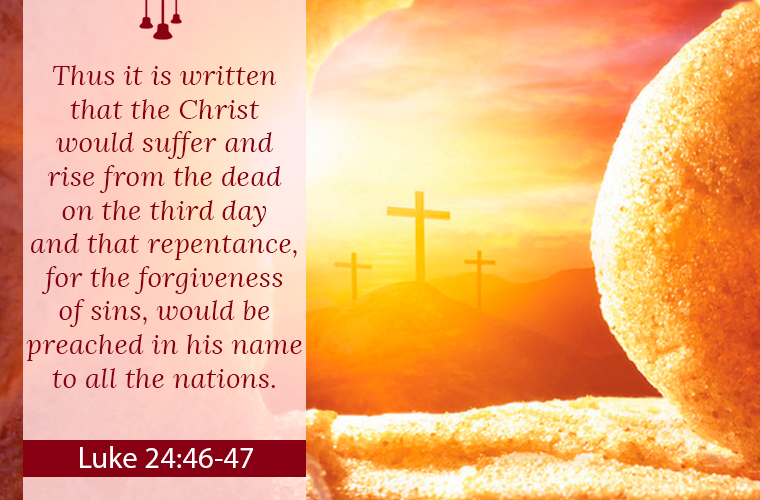 Wednesday, April 14, 2021

The Second Reading
The Liturgy of the Word generally follows a consistent pattern of three readings and a psalm. The second reading is always taken from one of the New Testament epistles or the book of Revelation, and generally is not intentionally aligned with either the Gospel or the first reading.
Where would we be without these letters in which great saints and apostles like Paul, Peter, James, and John share their wisdom and pastoral good sense with the early Christian communities?
It is in these letters, even more than in the Gospel narratives, that we learn what it means to be church: to live with each other, in the world yet not of the world, in these days after the Lord's resurrection. Each New Testament letter was written by a particular leader for a particular community at a particular time. We are reminded of this at the beginning of the proclamation" A reading from the letter of Saint Paul to the Ephesians," or the Corinthians, or the Thessalonians. These texts were shaped by their particular historical and cultural context, but at the same time, through the liturgy, these letters are written to us, here, today. They speak to the realities of Christian living no matter where or when we live. They are truly "the word of the Lord" for us.
Thursday, March 11, 2021

Follow along at Mass with your own Missalette.
Donation: $5.
Pick up your copy after any of the masses or visit our Parish Office
Wednesday, April 14, 2021

It is interesting that during the Easter season, when we do not hear a reading from the Old Testament, it becomes so important. This is particularly true today.
Peter's speech begins with a prayer formula familiar to Jews: "The God of Abraham . . ." (Acts 3:13). It likewise contains the potent phrases "Holy and Righteous One" and "mouth of all the prophets" (3:14, 18).
Peter was stating in no uncertain terms that the law, psalms, and prophets had been fulfilled in Christ. This is reinforced by Jesus himself in the Gospel passage, when he states that everything in the scriptures (to the early Christians "the scriptures" were what we call the Old Testament) had to be fulfilled. Above all, Jesus and Peter both emphasize that we are witnesses to all of this, and are sent forth to bear witness to it in the world. The Latin Missa, from which our word "Mass" comes, means "sent" (as in "mission"). As we leave Mass today, let us remember to be witnesses to all that has been fulfilled in the risen Christ.
Thursday, November 5, 2020

The St Martha church bulletin is provided by the J.S.Paluch Company to us at no cost. The bulletin is solely funded by the support of the local business community through business sponsorships. In order to continue to receive this, and many of the other benefits J.S.Paluch provides our church, we are looking for additional sponsorships to fill up the open space on our two sponsorship pages.
If you own a business, know of someone who does, or just want to celebrate an anniversary, birthday or special occasion, please consider promoting the business or event in our church bulletin. For more information on the sponsorship program, please contact our J.S.Paluch representative Patrick Falco directly.
He can be reached by email at falcop@jspaluch.com, or directly by phone at (910) 200-8383.
Also, if you have any experience in sales and would like to help the church fill the sponsorship page, please contact Mr. Falco as well. The church thanks you for your consideration and support.
Wednesday, April 14, 2021

Your prayers and support enable our Church to achieve great things.
If you haven't already done so, please consider supporting your parish by visiting give.adomdevelopment.org/pages/universal-parish-offertory
Giving to the Church can be done either directly or through a gift model that can provide tax benefits and even income.
Find out how by visiting our website www.adomgift.org or contacting the Office of Planned Giving at (305) 762-1112.
"But whoever keeps his word, the love of God is truly perfected in him"- 1 John 2:5
True Christian stewards understand that Jesus offered Himself for our sins and the sure way to follow Him is to keep His commandments.
Wednesday, April 14, 2021

Your gift helps to fulfill the mission of reaching Miami Shores for Jesus Christ.
Su ofrenda nos ayuda a cumplir la misión de traer el mensaje de Jesús a Miami Shores.
April 10th & April 11th, 2021
5:00pm $ 797.00
8:30am $ 986.00
10:30am $ 587.00
12:30pm $ 647.00
Total $ 3,017.00