Friday, May 26, 2023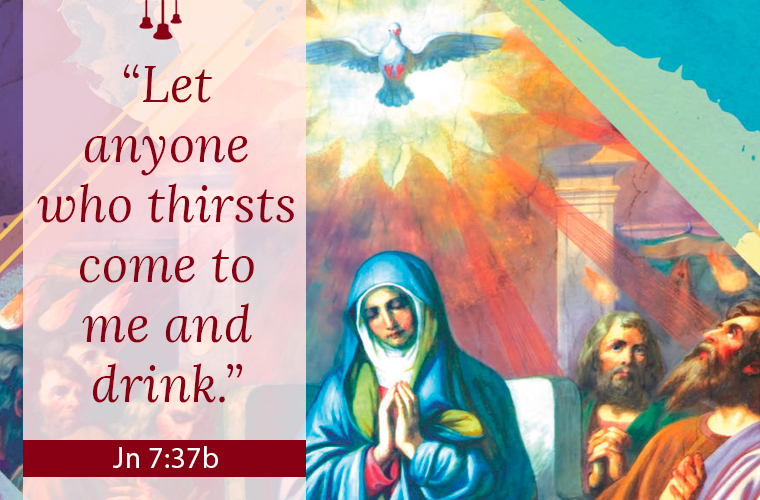 Gospel Meditation: Pentecost Sunday
Johnn 20:21-22
I hope you'll acknowledge with me a simple fact: it's not normal to have tongues of fire "part and come to rest" on people. It is actually pretty strange. Yet that is precisely what we celebrate in this feast of Pentecost.
How can this mean something to us in our daily lives?
Jews had a tradition that heaven is a temple made of bricks of fire. So, through the apostles, the heavenly temple is coming to earth. But this fire looks like tongues, not bricks. That means that heavenly speech will be crucial to building a dwelling place for God on earth among men and women. So, it's no surprise when the apostles begin to speak in a miraculous way that is understood by all language groups. They are speaking of what God has done in and through Jesus: bringing heaven to earth and uniting all peoples to God and to each other.
How often our speech divides: gossip, slander, insults, and so on. How strange and rare it is when people speak in ways that truly unite instead of divide. Imagine how powerful it would be if you and I began to speak at home, at work, and in our community in a way that made people hear heavenly speech. Imagine if you spoke of the mighty deeds of God in a way that everyone could understand. That's precisely what the Holy Spirit descends upon us to do. Ask Him to come as a tongue of fire to you once again, and He will. Then speak!
---
Meditación del Evangelio: Domingo de Pentecostés
Juan 20:21-22
Espero que reconozcan conmigo un hecho simple: no es normal tener lenguas de fuego que "se separan y se posan" sobre las personas. En realidad es bastante extraño. Sin embargo, eso es precisamente lo que celebramos en esta fiesta de Pentecostés.
¿Cómo puede esto significar algo para nosotros en nuestra vida diaria?
Los judíos tenían la tradición de que el cielo es un templo hecho de ladrillos de fuego. Entonces, a través de los apóstoles, el templo celestial viene a la tierra. Pero este fuego parecen lenguas, no ladrillos. Eso significa que el discurso celestial será crucial para construir una morada para Dios en la tierra entre hombres y mujeres. Entonces, no sorprende cuando los apóstoles comienzan a hablar de una manera milagrosa que todos los grupos lingüísticos entienden. Están hablando de lo que Dios ha hecho en y a través de Jesús: traer el cielo a la tierra y unir a todos los pueblos con Dios y entre sí.
Cuantas veces nuestro discurso se divide: chismes, calumnias, insultos, etc. Qué extraño y raro es cuando la gente habla de manera que realmente une en lugar de dividir. Imagina cuán poderoso sería si tú y yo comenzáramos a hablar en casa, en el trabajo y en nuestra comunidad de una manera que hiciera que la gente escuchara un discurso celestial. Imagínese si hablara de las obras poderosas de Dios de una manera que todos pudieran entender. Eso es precisamente lo que el Espíritu Santo desciende sobre nosotros para hacer. Pídele que venga a ti como una lengua de fuego una vez más, y lo hará. ¡Entonces habla!