Religious Education
Our warmest welcome!
Yearly registration is mandatory for participation.
At least two (2) consecutive years of preparation are required for the reception of any sacrament.
The First Communion program begins in the 1st grade.
The Confirmation program begins in the 6th grade.
Two years is the preparation time for unbaptized children 7 years and older to receive Baptism and Communion.
Classes: Sundays, from 8:30 am to 10:00 am.
Documents required before the first day of class.
Copy of Student's Birth Certificate.
Copy of Baptismal Certificate.
Copy of First Communion Certificate.
Copy of Insurance Card. (If available).
Transfer letter. If student attended classes in another parish.
Godfather/ Sponsor letter ( If student will receive Baptism or Confirmation).
Tuition Fees: $150.
Communion additional Fees: $30 optional for a Bible.
Parent's Handbook signed.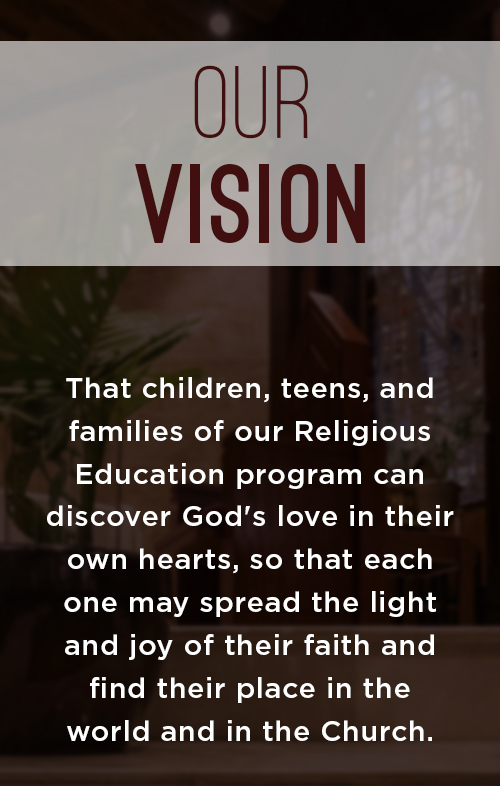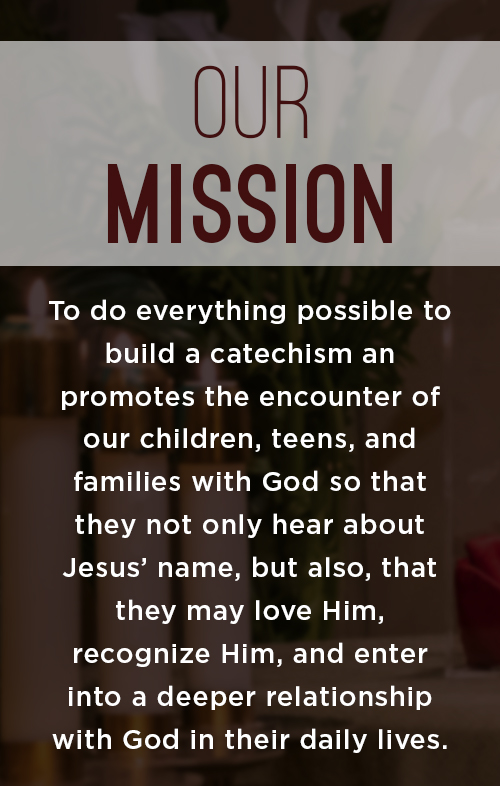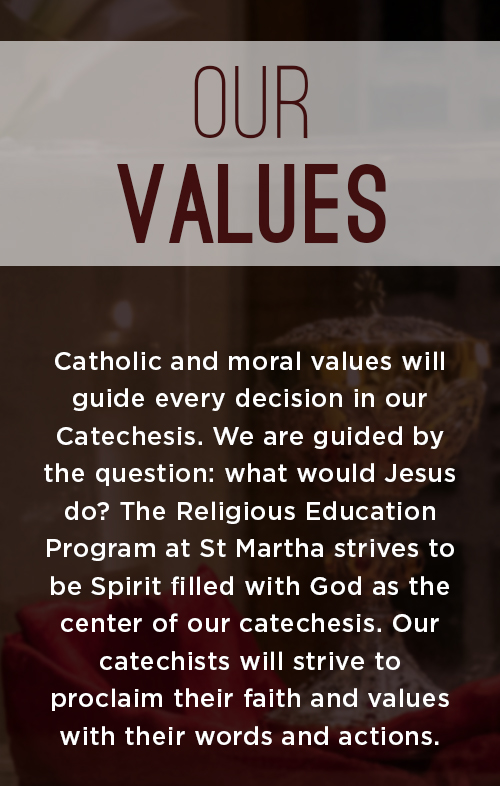 Objective 1: Faith
Invite children, teens, and their families to a deeper personal relationship with Christ, and the Church so that each one may discover his/her own faith to become disciples and missionaries of Christ.
Goals:
Pray the rosary and/ or the Divine Mercy chaplet in community.
Teach the Sunday Gospel.
Dedicate one day to pray the Rosary in community.
Teach the Bible.
Teach about the liturgical year.
Communion and confirmation projects and testing.
Invite teachers to complete the catechist certification courses.
Teach two lessons about safe environment to children and teens.
Parent classes.
Objective 2: Worship
Invite children, teens, and their families to a spiritual journey through the teachings of the faith, and through a sacramental life, intensely lived in the Eucharist and in the sacrament of Penance in order that each one may worship and discover the goodness of the Lord.
Goals:
Monthly sacramental preparation for reconciliation and Eucharist.
Communion retreat.
Confirmation retreat.
RCIA retreat.
Teaching about the meaning of the Mass and its parts.
Monthly children's Masses.
Encourage Mass attendance
Parent classes on the Sacraments
Parent classes on the Mass
Objective 3: Witness
Invite children, teens, and their families to discipleship through Jesus' example by encouraging all to seek an encounter with others through service, charity, and truth.
Goals:
Food drive campaign/ Thanksgiving.
Christmas baby food and toy drive campaign.
Community gathering.
Families Consecration Mass.
Catechist teaching planning days.
Field trips/ visits to Life Teen and Edge Youth Ministry.
Invite speakers.
Invite groups and ministries.
Community hours for confirmation students.
Workshops for catechists.